Our power went out around 7:30pm on 11/26 (the day before Thanksgiving). The lights had been flickering for a while so we'd guessed it was coming but that was no consolation when it finally happened. A nor'easter brought an extended heavy wet snowfall that resulted in trees and tree limbs down across much of the southern half of the state. I started this post just after noon on Thanksgiving and all indications from the power company PSNH pointed towards a multi-day outage ahead.

We are fortunate enough to have a portable generator and our fuse box is set up to allow us to safely isolate a number of circuits from the mains and power those locally. Our set-up lets us power heat, water (hot and cold), the stove (which, while gas, still needs electricity to function) and the refrigerator plus a few lights and outlets to permit portable device charging. Its not perfect but it covers the essentials. Our broadband internet is also down but AT&T have managed to keep LTE up and running so we have internet access.
Out of interest I decided to monitor the outages in three nearby towns to see what I could learn about PSNH's recovery strategy and maybe better predict when we'd be back on the grid. The three towns are Nashua (a small city of about 41000 homes), Hollis (a town of about 3400 homes) and Brookline (a small town of about 2000 homes). Figures 1 and 2 below shows the number and percentage of properties without power over the outage period. The data was extracted from PSNH's own outage page and is shown in table 1 at the end of this post.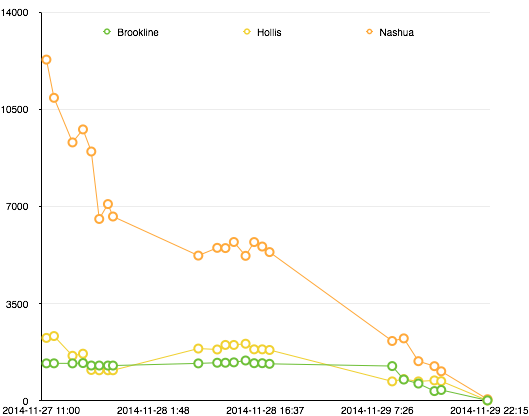 The bump in number of properties with outages late in the evening of Thanksgiving may be due to additional storm damage or from more folks reporting outages as they return from family and friends.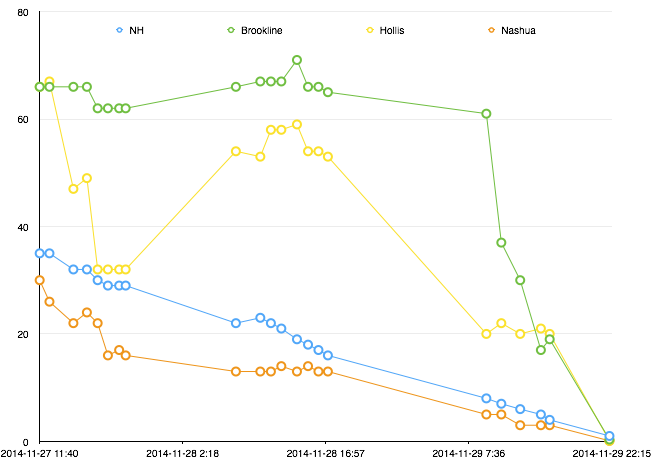 There was very little progress in restoring power to Hollis or Brookline over the first two days of the outage. A PSNH press release stated that during Thanksgiving day (day 1)
crews focused on completing a comprehensive damage assessment in order to focus restoration efforts in the most logical and effective manner
A subsequent press release on Black Friday (day 2) stated that the day's focus was
on restoring priority facilities (schools, medical facilities, economic centers, etc.) and large pockets of customers
and that line crews were
also dedicated to identifying and repairing individual outages, often the longest part of the restoration process
Late in the afternoon of Black Friday PSNH's online outage page started reporting an error (an outage of the outage page) so there are several missing data points until the service was fixed on Saturday morning.
Our power came back at 8:30pm on Black Friday. We got lucky this time, significant outages continued until late Saturday.
Table 1: Power outages in the state and three local towns over time

| Time | NH | (%) | Brookline | (%) | Hollis | (%) | Nashua | (%) |
| --- | --- | --- | --- | --- | --- | --- | --- | --- |
| Nov 27, 11:40 | 177425 | (35) | 1341 | (66) | 2258 | (66) | 12285 | (30) |
| Nov 27, 12:40 | 172598 | (35) | 1342 | (66) | 2325 | (67) | 10908 | (26) |
| Nov 27, 15:07 | 160807 | (32) | 1340 | (66) | 1614 | (47) | 9301 | (22) |
| Nov 27, 16:30 | 158283 | (32) | 1351 | (66) | 1689 | (49) | 9770 | (24) |
| Nov 27, 17:36 | 151415 | (30) | 1263 | (62) | 1103 | (32) | 8974 | (22) |
| Nov 27, 18:39 | 145121 | (29) | 1263 | (62) | 1092 | (32) | 6543 | (16) |
| Nov 27, 19:48 | 142880 | (29) | 1262 | (62) | 1092 | (32) | 7080 | (17) |
| Nov 27, 20:28 | 144122 | (29) | 1262 | (62) | 1092 | (32) | 6632 | (16) |
| Nov 28, 7:45 | 110764 | (22) | 1340 | (66) | 1874 | (54) | 5224 | (13) |
| Nov 28, 10:15 | 114947 | (23) | 1363 | (67) | 1841 | (53) | 5503 | (13) |
| Nov 28, 11:20 | 112137 | (22) | 1363 | (67) | 2005 | (58) | 5494 | (13) |
| Nov 28, 12:27 | 104236 | (21) | 1377 | (67) | 2004 | (58) | 5713 | (14) |
| Nov 28, 14:00 | 96908 | (19) | 1444 | (71) | 2048 | (59) | 5215 | (13) |
| Nov 28, 15:08 | 89442 | (18) | 1347 | (66) | 1846 | (54) | 5711 | (14) |
| Nov 28, 16:12 | 86437 | (17) | 1347 | (66) | 1846 | (54) | 5550 | (13) |
| Nov 28, 17:10 | 82467 | (16) | 1324 | (65) | 1823 | (53) | 5350 | (13) |
| Nov 29, 9:23 | 38267 | (8) | 1243 | (61) | 691 | (20) | 2147 | (5) |
| Nov 29, 10:55 | 32792 | (7) | 758 | (37) | 774 | (22) | 2241 | (5) |
| Nov 29, 12:51 | 27842 | (6) | 613 | (30) | 691 | (20) | 1419 | (3) |
| Nov 29, 14:58 | 22554 | (5) | 342 | (17) | 727 | (21) | 1240 | (3) |
| Nov 29, 15:52 | 21731 | (4) | 382 | (19) | 699 | (20) | 1055 | (3) |
| Nov 29, 21:59 | 5816 | (1) | 7 | (0.34) | 3 | (0.09) | 49 | (0.12) |