We've been reading Adventure Cyclist magazine for about a year and all the great bicycle-travel stories inspired us to try our hand. With Alex away at scout camp and Caleb old enough to be left alone for a couple of days we decided this week was the time and planned a three-day, two-night inn-to-inn adventure of our own.
Equipment
Neither of our road bikes have the necessary braze-ons to add luggage and cycling a long distance with a rucksack isn't ideal. Fortunately my mountain bike already had a rack so I decided to make a couple of modifications to that to make it more touring friendly:
I swapped out the knobby off-road tires for a set of Schwalbe Big Apples. I went for the 2in wide version so they wouldn't look too ridiculous on a mountain bike like thinner tires can. These roll much easier than knobby tires but still offer a nice plush ride over bumpy road.
I swapped the flat handle bar for a Modolo Yuma trekking bar so I'd have more hand positions while riding. I figured that riding lots of miles with my hands spread wide on the flat bar would be tiring. The trekking bar worked well once I found a good spot for the brake and gear levers.
We both invested in rain jackets just-in-case and, for luggage, we bought a pair of Arkel T-42 panniers and an Arkel small handlebar bag. Alison added a small velcro handlebar bag to her roadbike that we've had in the family for some time. It's summer so we packed light with just enough clothes for off-the-bike evenings out. Total luggage weight was 26lbs, not too bad at all.
Day 1 - Home to Hancock
Our tour started on an overcast Monday with a promise of rain later. We followed our regular back-roads route to Milford and then headed into Wilton to begin the steady climb on Rt 31 towards Lyndeborough and Greenfield. The rain started a few miles short of Greenfield so we decided to take a coffee break at Delay's Town & Country Store in the center of town. Afterwards we headed back out into the now heavy rain for the final six miles to the Hancock Inn, our accommodation for the night.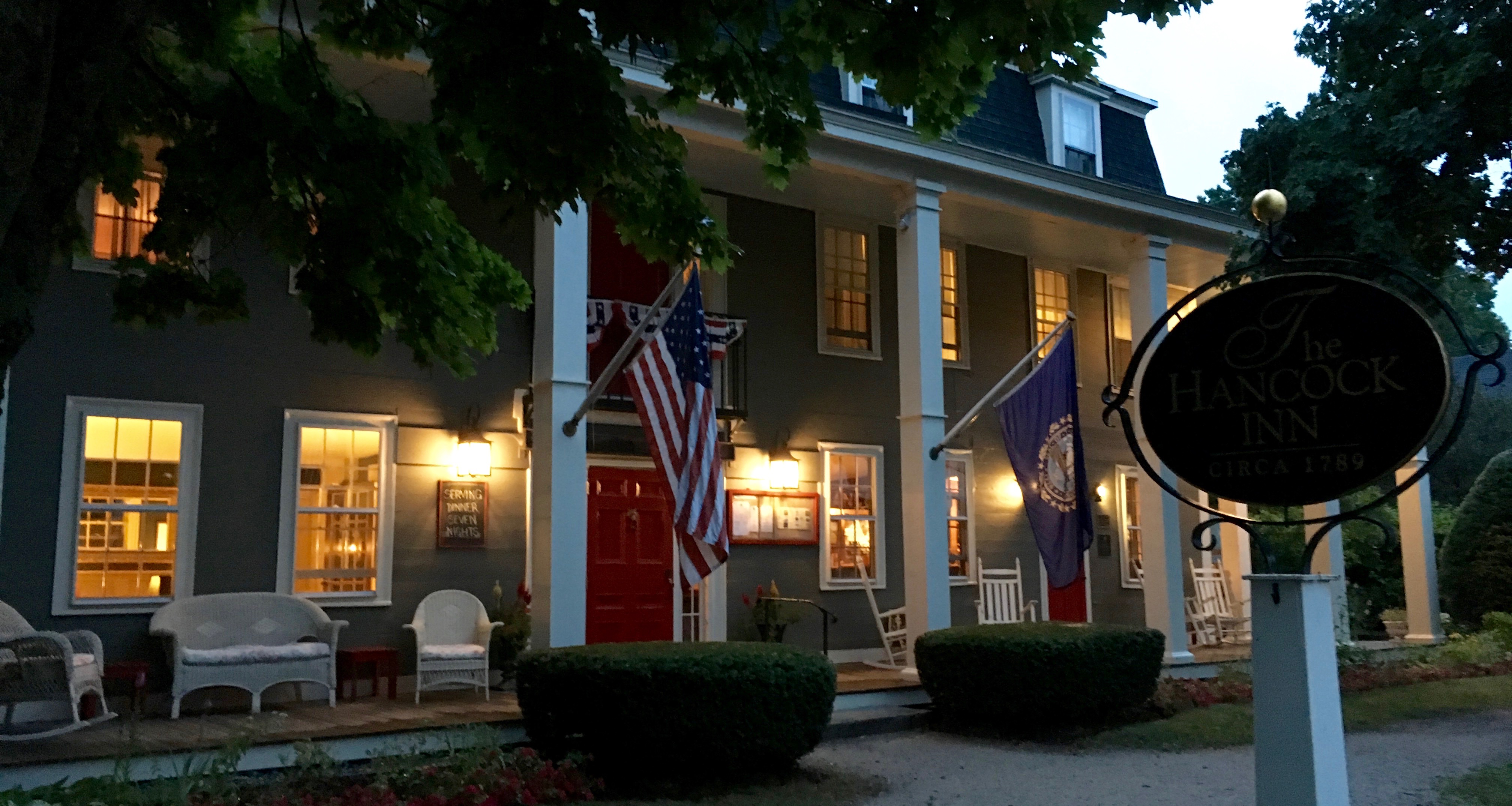 We arrived at the inn pretty well soaked after scaling the Forest Rd hill up from route 202. We were early for check in and our room wasn't yet ready so we parked our bikes in the shed at the back of the inn and headed across the street for a delicious late lunch and more coffee at the Fiddleheads Cafe. Afterwards we settled into our room for a hot shower and a couple of hours of relaxation before dinner.
Day 2 - Hancock to Henniker
We started day two with a delicious breakfast at the inn and then gathered our things and set out on the short 20 mile ride to Henniker. I managed to miss an early turn so we ended up taking Rt 202 all the way into Antrim rather than the back roads we'd intended, fortunately traffic wasn't bad and the road had a decently wide verge that we could use. After 16 miles or so we took a break along the banks of the Contoocook River where we shed our rain jackets and enjoyed the warmth of the sun.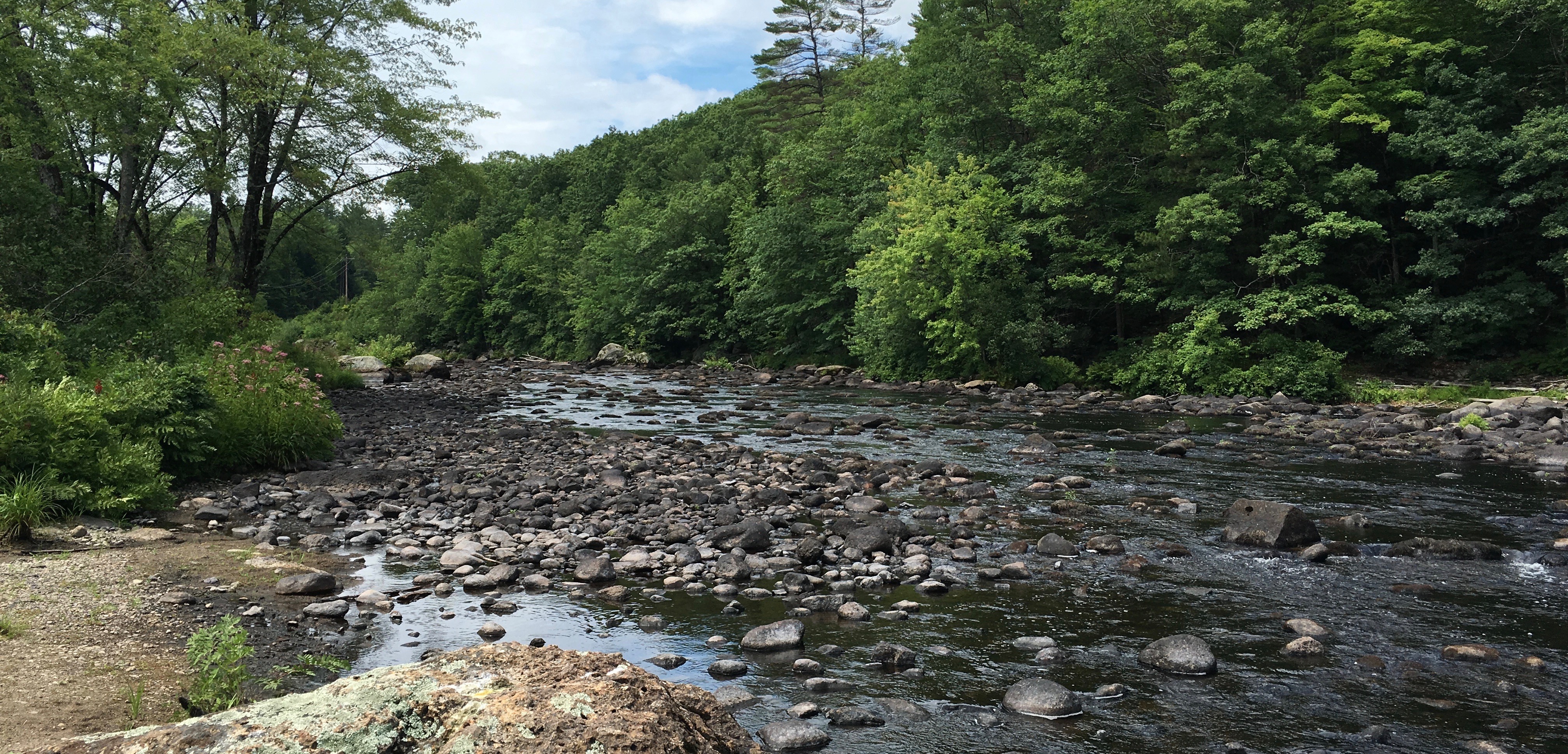 We then cycled the remaining few miles to the Colby Hill Inn where we were able to check in early and drop our bags. We headed back out for lunch at St George's Cafe on Bridge St (the jalapeno and cheese bagel with jalapeno cream cheese was delicious) and then cycled a loop via Contoocook and Hopkinton to make up for the relatively small distance between our accommodations. We followed some of the Currier and Ives Scenic Byway but were disappointed in the section on Rt 202 between Hopkinton and Henniker: traffic speeding by at 60 mph does not make for a scenic or relaxing ride!
On the return leg of the loop we stopped in at Henniker Brewing for a cold, refreshing tasting flight.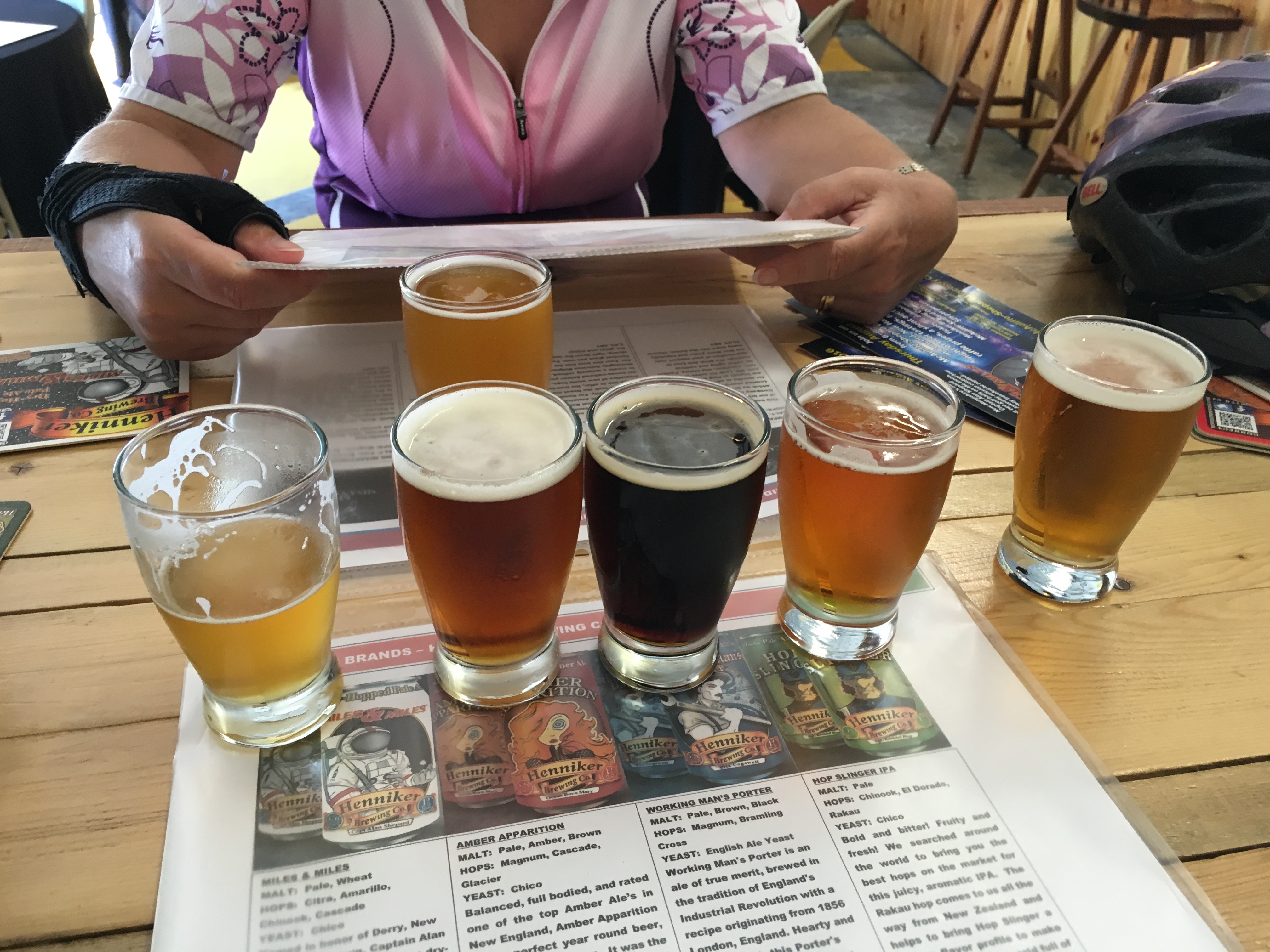 In the evening we attended a free jazz concert by Swing Rocket at the Henniker band stand and enjoyed take-out pizza and fries from Sonny's Main Street Pizza just across the street.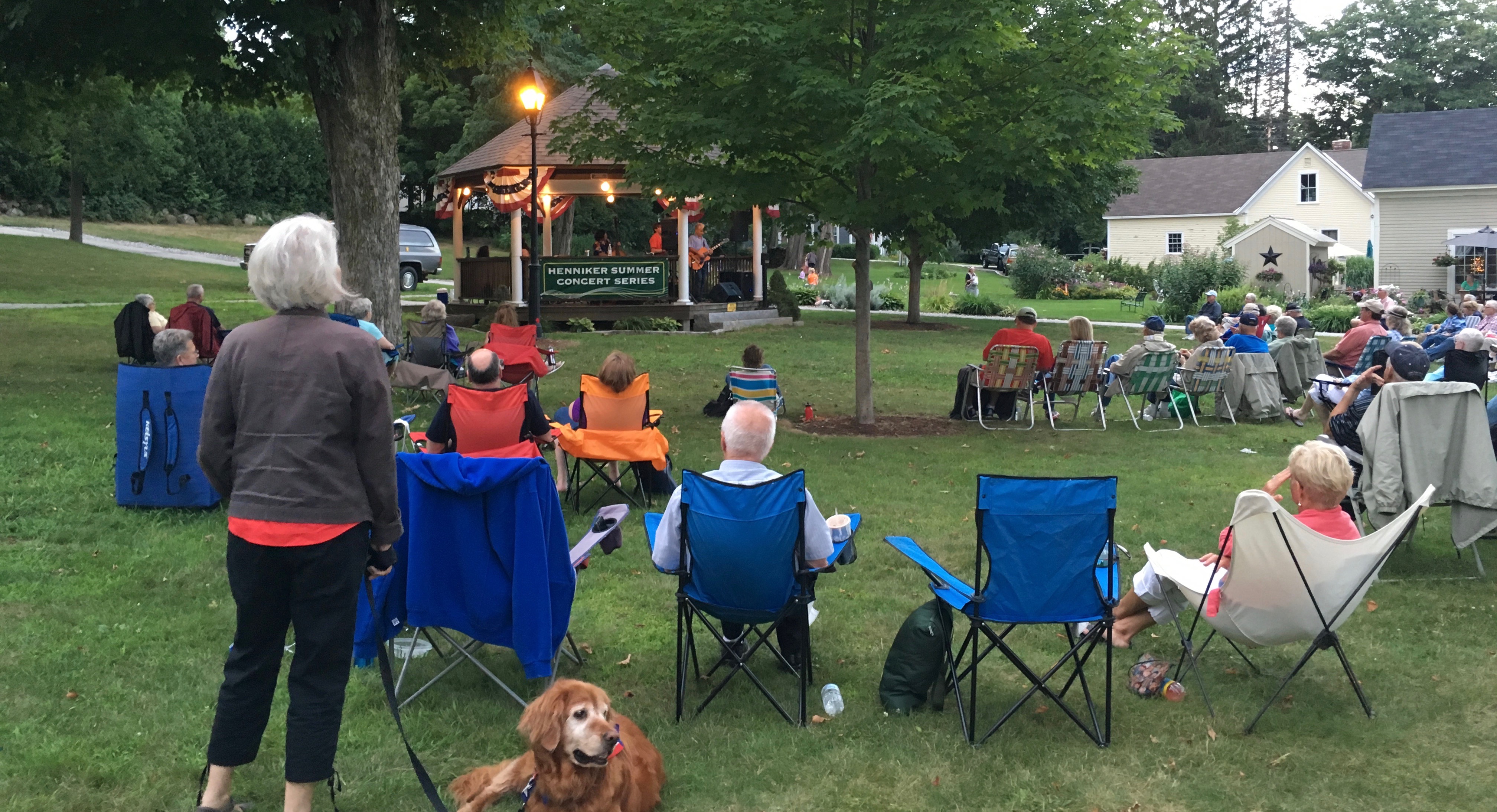 Day 3 - Henniker to Home
We started the final day of the tour with another delicious breakfast at the inn featuring lots of local organic produce - the leek and cheese frittata I had was amazing. We rode home via Weare, New Boston and Mont Vernon but the combination of heat and lots of hills made this the most challenging day by far. We stopped briefly in Mont Vernon for some emergency Gatorade and then plunged down the hill into Milford and onward to the final climb back into Brookline and home.
Things We Learned
Bicycle travel is a lot of fun and we definitely plan to do more
There are some lovely country inns out there, the two we stayed at were great and were both listed by Select Registry which we'll consult again for our next trip
Buying rain jackets was a great idea!
If I ever buy a dedicated bike for touring it will have nice low gears for hills!