I've owned my Jeep Wrangler for nearly a year now but its off-road prowess has so far only been tested on fields, maintained dirt roads, and one easy trail. I've been wanting to try something a bit more challenging for a while but didn't want to head out on my own and get stuck like these guys from the Fast Show.
When I saw that the Bay State Jeepers club was hosting a Jeep 101 event I immediately signed up and it didn't take much persuasion to get Caleb to join me.
The event was very well attended with at least 30 Jeep owners new to off road driving and some seasoned club members to lead the way. The day started with a series of short talks on things like safety, equipment and trail etiquette. After the talks we were instructed on how to air-down our tires to a lower pressure for better grip and control off road - I'm still running stock "all terrain" tires so I lowered mine to 15psi, a more off-road oriented tire would allow lower pressures.
Next we ran through a series of exercises including balancing on logs, driving over bricks to find low points on the vehicle and estimate available ground clearance, and finally driving one front wheel up a long ramp to determine how far the front axle would articulate before lifting a wheel.

After a nice lunch provided by the club we formed up into two groups and headed out to the trail.

The first part of the trail was fairly easy with only a few small logs and branches to get over. The main challenge was somewhat tight turns and squeezing between trees, less of a problem for 2-door Jeeps like mine but I saw a couple of the 4-door drivers having some issues. Things got more difficult when we encountered rocks.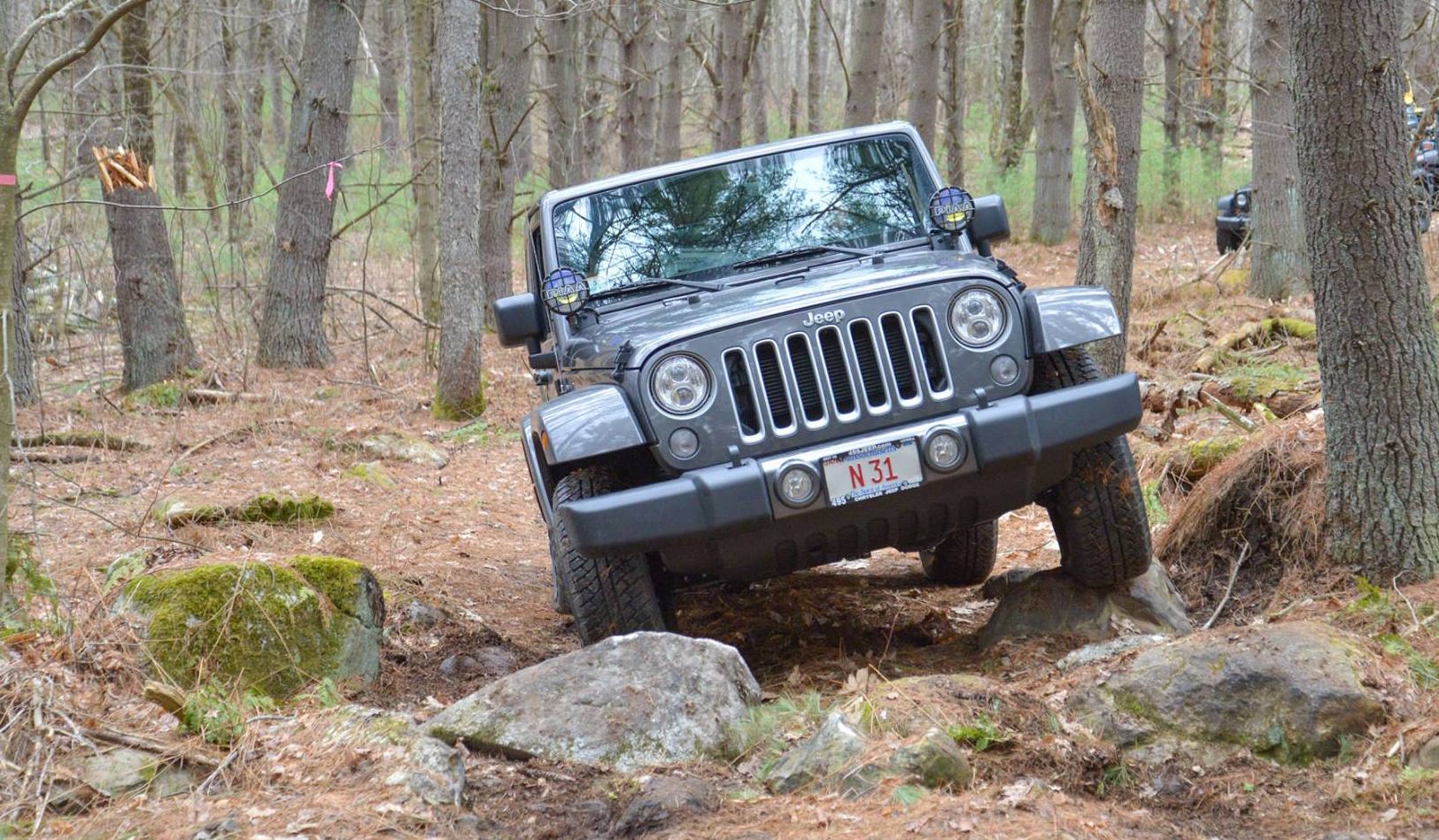 A stock Jeep Wrangler has pretty good ground clearance but some of the rocks we climbed over were obviously too high and the grinding noises I heard several times as rock encountered Jeep made me wish I had a suspension lift and bigger tires. The biggest scare of the day came when I slid sideways off a rock and came within inches of a tree, fortunately I stopped before any damage was done and managed to scale the obstacle on my second try, albeit with further grinding noises.
We'd been warned earlier about a hill climb that one unfortunate club member had issues on the week before. He'd lost traction, reversed and hit a tree on the way back damaging his fender and rear light. The hill climb came right after my slideways slide and I was pretty nervous looking at the long steep rise, fortunately I made it up the hill without issue and was really impressed with my Jeeps climbing abilities with stock road-friendly tires.
We left the trail shortly after and went in search of air to re-inflate our tires before heading home. Next time I'll bring a pump.
My thanks to Bay State Jeepers for a fun day out. The Jeep escaped with only minor scrapes to the undercarriage but I'm now busy researching suspension lifts and big tires ;-).